Hello,
Welcome to a rather late post from me. I should have posted this last Wednesday but I'm afraid I just didn't get to it until now. I was away with my daughter this weekend at a cheerleading competition and had sinusitis in the run up to going away that gave me a blinding headache so the last thing I wanted to do after work was hop on the pc to blog after staring at a screen all day. Anyway the good news is that my daughter's team won their division and I couldn't be more proud!
So on to my DT business... my card is for the current
I♥Promarkers
challenge. Our theme this time is Something New (use new stash). So if you got some new stash for Christmas or treated yourself in the sales why not take part and show them off! A change for the new year - our challenge has now gone fortnightly and the DT has been split into 2 teams so don't forget to join us every Wednesday for new inspiration from each team. Challenges will end the second Monday evening following the original challenge post.
Our sponsors are The Paper Shelter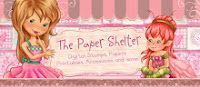 I've used a fab image of theirs called 'Rock Star' which of course I've coloured with Promarkers!
The paper is actually a Christmas one ?!? and is from the Honey & Hugs Festive Frolics pad - an old one from Docrafts. I've used X-cut dies for the stars and the foam numbers are from Asda! My new stash is the fab music note border die called Christmas Carol from Die'sire by Crafters Companion. I really love it and I'm sure I'll get lot's of mileage out of it not just at Christmas as I've done here. My card is finished off with gems and glitter dome stickers.
Thank you for stopping by.
Shona xx