Good evening,
Sorry no scheduled post from me this morning. I was a bit all over the place last night and ran out of time. Hubby was back in hospital today for a revision of the hernia op he had last year as one side had popped back out. It was just keyhole surgery this time and thankfully done locally (you might remember my 3 return trips to Fort William 66 miles away last summer). He has been well warned no heavy lifting for 8 weeks so I will be trying to watch him like a hawk!
Ok, so back to my card. Today we have a fab new challenge starting over at
I♥Promarkers
, this fortnight's theme is 'Use Ribbon and/or Lace' and we are sponsored by The Paper Shelter!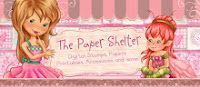 I have used a fab sponsor image for my DT card called 'Charming Spring Girl' and I've coloured her with Promarkers.
The papers are all from a Forever Friends pack called Spring Time so I thought they would tie in with the image. Everything has been matted and layered with black card for a bold, fresh look. The sentiment sticker is by Pebbles Inc and I've added some gingham ribbon to tie in with the theme. My card is finished off with black gems and a button tied with paper cord.
Thanks for stopping by.
Hugs, Shona xx